Los Angeles Breach of Fiduciary Duty Attorneys
Diligent Advocacy in California
Any breach of fiduciary duty can substantially harm your business, and any party who fails to honor their duty of care must be held accountable for misconduct. As a business leader, you will need sophisticated legal representation to explore the full extent of your options and pursue the appropriate legal action.
Separately, there are situations where you may be accused of breaching fiduciary duty due to circumstances beyond your control. In these cases, you will need a robust defense to protect your professional licenses, reputation, and livelihood.
Our Los Angeles breach of fiduciary duty lawyers have decades of combined experience representing plaintiffs and defendants in courts throughout California. Our team at Eanet, PC is made up of talented litigators who have an impeccable track record of delivering successful results for our clients. We know what is at stake and are extensively familiar with how these allegations are adjudicated. You will work directly with our attorneys throughout our handling of your case, and we will fight tirelessly to secure the favorable outcome you deserve.
---
Contact us online or call (310) 997-4185 to start exploring your legal options. Payment plans are available.
---
What Is a Fiduciary Duty?
A fiduciary duty exists when one party (the fiduciary) agrees to responsibly act in the best interests of another party (the principal). When a fiduciary duty exists, the fiduciary must avoid (or disclose) potential conflicts of interest and cannot exploit the relationship to enrich themselves or a third party. The fiduciary must also knowingly agree to accept these responsibilities in order for the legal relationship to exist.
---
Put our experience to work for you. Schedule a free initial consultation with us by contacting us online or calling (310) 997-4185.
---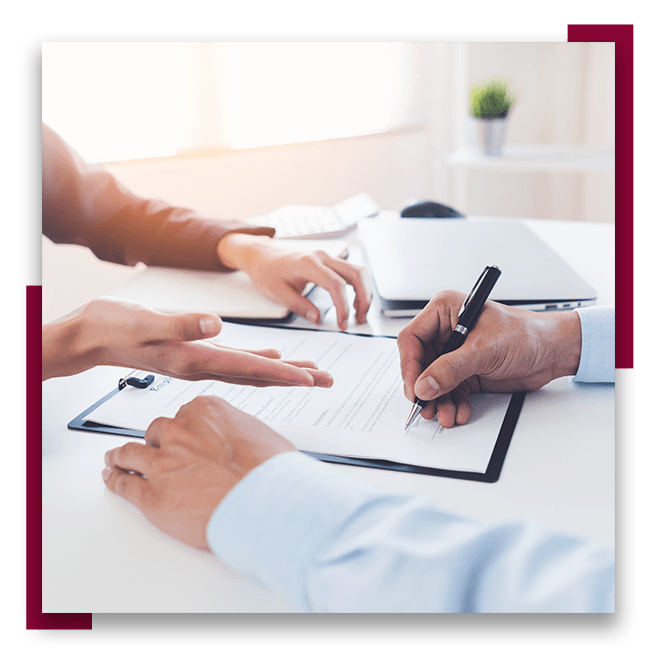 When Does a Fiduciary Relationship Exist?
Fiduciary relationships exist in a wide variety of professional contexts, including between:
Financial advisors and investors
Attorneys and their clients
Real estate agents/brokers and their clients
Corporate officers and directors to their company and its shareholders
Trustees and their beneficiaries
Partners and other co-owners in a business partnership
When Does a Breach of Fiduciary Duty Occur?
A breach of fiduciary duty occurs when a fiduciary does not act in the best interest of the principal.
Some examples of breaches of fiduciary duty include:
A financial investor failing to disclose a clear conflict of interest or level of risk to an investor
A real estate broker secretly representing both the buyer and seller in a real estate transaction
An employee misappropriating an employer's trade secrets
A corporate officer personally profiting at their employer's expense
A trustee mismanaging or embezzling a trust's funds
A partner acting on behalf of a competitor, or usurping a corporate opportunity
In a commercial context, breaches of fiduciary tend to involve business owners, shareholders, employees, financial advisors, real estate agents, or other professionals. A business or its owners could suffer damages when their fiduciaries fail to fulfill their legal responsibilities. Our Los Angeles breach of fiduciary duty attorneys can evaluate your circumstances and advise whether you have a strong case.
Proving a Breach of Fiduciary Claim
When a principal or group of principals believe a breach of fiduciary duty has occurred, they can bring legal action against the fiduciary. Prevailing in these cases requires establishing certain elements in court.
A breach of fiduciary claim must prove:
A fiduciary duty existed. You should never assume you have a fiduciary relationship with another party. While some fiduciary responsibilities are inherent to some professionals (including law, finance, and real estate), you should still clarify that a fiduciary relationship exists in writing. Otherwise, you will need to provide ample documentation that establishes the fiduciary relationship.
A breach occurred. You will need to clarify and demonstrate what specific breach occurred as a result of the fiduciary's irresponsible or negligent conduct or deliberate misconduct. A fiduciary can only be held responsible for their own actions and the information available to them. If you provided a fiduciary with inaccurate or incomplete information, for example, any resulting fiduciary behavior will likely not constitute a breach.
The principal suffered damages. You will most likely not be able to bring a breach of fiduciary duty claim if you suffered no material damages. If misconduct led to no actual damages, it may be better to simply terminate the relationship. However, if assets lost value or you lost money as a result of the fiduciary's behavior, you likely experienced damages that warrant litigation.
The damages were the direct result of the breach. You must establish that the fiduciary's conduct was the primary cause of the damages you suffered.
There are fundamental risks that come with operating a business, conducting transactions, and making investments. Some of these endeavors may result in unavoidable losses due to unforeseeable economic conditions and other factors. In other words, experiencing a loss does not necessarily mean a breach of fiduciary duty has occurred. Our team is happy to review your situation and advise whether a claim is warranted. If you are facing a claim for breach of fiduciary duty, we can offer the seasoned representation you need.
What a Breach of Fiduciary Claim Can Accomplish in California
Mere allegations involving a breach of fiduciary duty can do tremendous damage to a professional's reputation and their ability to find new work. Shareholder disputes involving alleged breaches of fiduciary duty can also negatively impact a business's brand and public image when the conflict becomes public.
When a claimant prevails in a breach of fiduciary duty case, they are typically entitled to compensatory damages for losses resulting from the fiduciary's conduct. Claimants may also be entitled to compensation for legal fees. In limited cases, a court may award punitive damages, which act to "punish" the fiduciary for especially egregious behavior.
Breaches of fiduciary duty can lead to the offending parties losing their professional licenses, memberships, and/or accreditation. This potential outcome is why all professionals must take allegations of fiduciary duty extremely seriously.
Our lawyers are ready to help professionals and businesses navigate these claims. At Eanet, PC, we aim to provide an outstanding client experience and are committed to providing the knowledgeable guidance you need to succeed.
Experienced | Fair | Efficient
Get Started Today